Congratulations Scott and Emma on defending your titles
Full results here: Link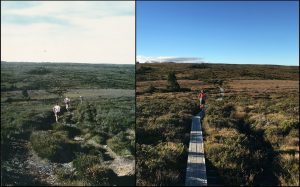 Heading towards Lake Windermere, comparing the track years ago to today
Training on the Overland Track
As the event nears please be aware of the Overland Track Usage Guidelines (www.parks.tas.gov.au/file.aspx?id=37489). There are limitations on access to the track outside of the event during permit season. Runners on a day pass are only allowed to Waterfall Valley from the North; Pelion Gap and Mt Ossa from the Arm River Track, and Pine Valley turn off from the South. To complete any more than this requires an Overland Track Permit. All the best with your run preparations.
All results up to 2018 by time and runner on results page
The Cradle Mountain Run. An 80 km run through Tasmania's beautiful wilderness.