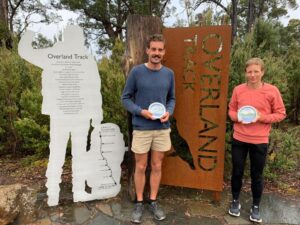 2021 Winners Matthew Crehan and Amy Lamprecht
The 2022 Cradle Mountain Run will be held on 5th February 2022.
The 2022 CMR Information and 2022_Compulsory_Gear_List documents are now available.
---
Entries for 2022 CMR are now closed.
The run committee are assessing applications and will be in contact in due course.
---
Training on the Overland Track during permit season.
Please be aware of the Overland Track Usage Guidelines (Link). There are limitations on access to the track outside of the event during permit season: 1 October to 31 May. During this period runners on a day pass are only allowed to Waterfall Valley from the North; Pelion Gap and Mt Ossa from the Arm River Track, and Pine Valley turn off from the South. Longer distances during permit season require an Overland Track Permit. From 1 June to 30 September runners with a National Parks pass usually may run in either direction any distance. Due to COVID 19, numbers completing the Overland Track are being controlled in the off season. Please review Parks and Wildlife Service information and contact them for further information.
---
The Cradle Mountain Run. An 80 km run through Tasmania's beautiful wilderness.