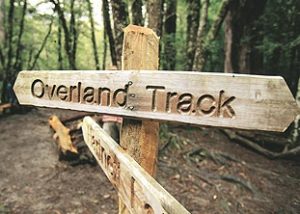 The Cradle Mountain Run is a one day traverse of Tasmania's famous Cradle Mt to Lake St Clair Overland track. The beauty of this run is that it traverses wild alpine areas of Tasmania's Cradle Mt Lake St Clair National Park and World Heritage Area. The altitude of the track in several areas of the plateau is greater than 1000 metres, which by world standards is not high, but here is well above the tree line. This low tree line illustrates the exposure and harshness of conditions that can prevail even in summer.
This is an estimated, not-accurately measured 80km trail run limited to 60 runners. The event is a Run not a Race and mutual help is an important aspect. Hills are steep, the mud can suck your shoes off and roots and stones make the going slow for the less nimble footed. Some photos of the track surface can be found HERE
Entry Criteria
Because of its difficulties, runners must provide evidence of their suitability to tackle this run. The current entry criteria are as follows:-
1) Minimum age of 18 years on race day AND
2) You must have completed a previous Cradle Run OR any trail based single stage ultramarathon longer than 80 km finished within race cutoff time, within the last three years (2021 on).  Tasmanian events Kunanyi Mountain Run 68km within 15 hours and Gone Nuts 75km within 14 hours will be accepted.
Please Note:- all results must be easily verifiable by the Cradle Run organisers (eg results on web). If information cannot be provided to easily verify results the organisers will reject the application.
Entry Process
Entries are taken online and potential runners should note that entries fill extremely quickly. The 2024 run will be on Saturday 3rd February. Entries for 2024 will open at 8pm (Australian Eastern Daylight Saving Time / GMT + 11hrs), Sunday 15th October 2023.
Payment must be made upon entry using Paypal or credit card. The entry fee will be $350 / runner which includes membership of the Cradle Mountain Run Inc Association and a $50 Overland Track fee payable to the National Parks and Wildlife Service.
The following entry process takes place:-
1) There are only 60 entry spaces available. After this, runners will be placed on a waitlist and will be contacted if a spot becomes available. If you do not qualify or are not VERY serious about completing this run please DO NOT enter. You will displace another runner.
2) Entries are received online from the opening date. Entries will be closed after 3 days or when sufficient numbers are reached.
3) Online acceptance of entry does not confirm a position in the Cradle Mountain Run. Following closure of online entries, the Organisers evaluate all applications on a first come, first serve basis. If the runner's qualifications are accepted the entries are accepted in the order they were received. Please note that the organisers have the right to refuse any application without justification.
4) Accepted runners will be notified by email as soon as possible. Please be patient as it does take a while to vet all entries.
5) If you withdraw prior to the run due to injury or illness you will not be penalised in future years. In fact, we respect you for making that difficult decision. If you need to withdraw, please let the organisers know as soon as possible.
6)  Please assess your own circumstances regarding entry to Tasmania and notify the committee if it appears that you may not be able to enter the state.
7) Refunds will be provided up until the 31 December 2023.
8) If the event is cancelled due to Tasmanian Government directives, then full refunds will be provided.
Gear Requirements & Logistics
For anyone contemplating the run, further information as well as Rules, Compulsory Equipment, Transport and Accommodation information is available through 2024 CMR Information and 2024 Compulsory Gear.
More Information
Please contact Christine Brown if you have any queries